Description
For a long time (that) the handheld GIS data collector had served the users great convenience and mobility. However, the limitation of the accuracy and hardware configuration have been bothering the users as well.
Recently, Hi-Target has introduced a high precision mobile GIS data collector, Qmini A7, which is dedicated to solving the problem above. By using the high precision GNSS board and all new innovative helical GNSS antenna, powered by the built-in Hi-Target smart GNSS algorithm, Qmini A7 is able to track GPS, GLONASS and BDS constellations and offer you a precise coordinate rapidly with the reference network service. Thus, it can widely serve the staff and fleet management, pipeline survey, land resource survey and other kinds of GIS data collecting application.
This article will mainly introduce the hardware, positioning performance and software (as well).
Hardare Specification
Qmini A7 is using 8 core 2.0 Ghz CPU, 13 MP camera, 5500mAh battery, 1920X080 screen resolution while the display brightness can be up to 600 nit. Meanwhile, the design is rugged, reaching IP67 level and (can) survive at 1.5 meter free fall.
GNSS Performance Testing
Let's see the positioning performance and what surprise that the Qmini A7 can bring to us.
The test was operated in a wide open area to collect the data continuously.
Weather: Partly cloudy
Testing Date: 2nd June, 2016
Testing Place: on the roof of Hi-Target headquarter
Testing Equipment: Qmini A7
Testing Method: Connect to Hi-Target CORS, put it on the roof and keep observing for hours
Qmini A7-CORS-20170602 Outer precision check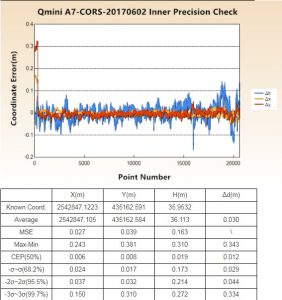 From the analysis above, it is proved that Qmini A7 can work in demanding mobile GIS data collecting occasion and our work will be boosted.
Hi-Q Android APP
Hi-Q is an easy to use, lightweight GIS data collector developed by Hi-Target, offering the delightful operating service–online/offline basemap, task management, data collecting, data management, staking out and VRS setting, etc.
From single satellite constellation to 3 constellation, from Qcool, Qstar, Qpad and Qbox to QminiA,Hi-Target is dedicated to offer you the most ideal mobile GIS data collecting solutions with the best precision. Surely the Qmini A7 won't let you down.